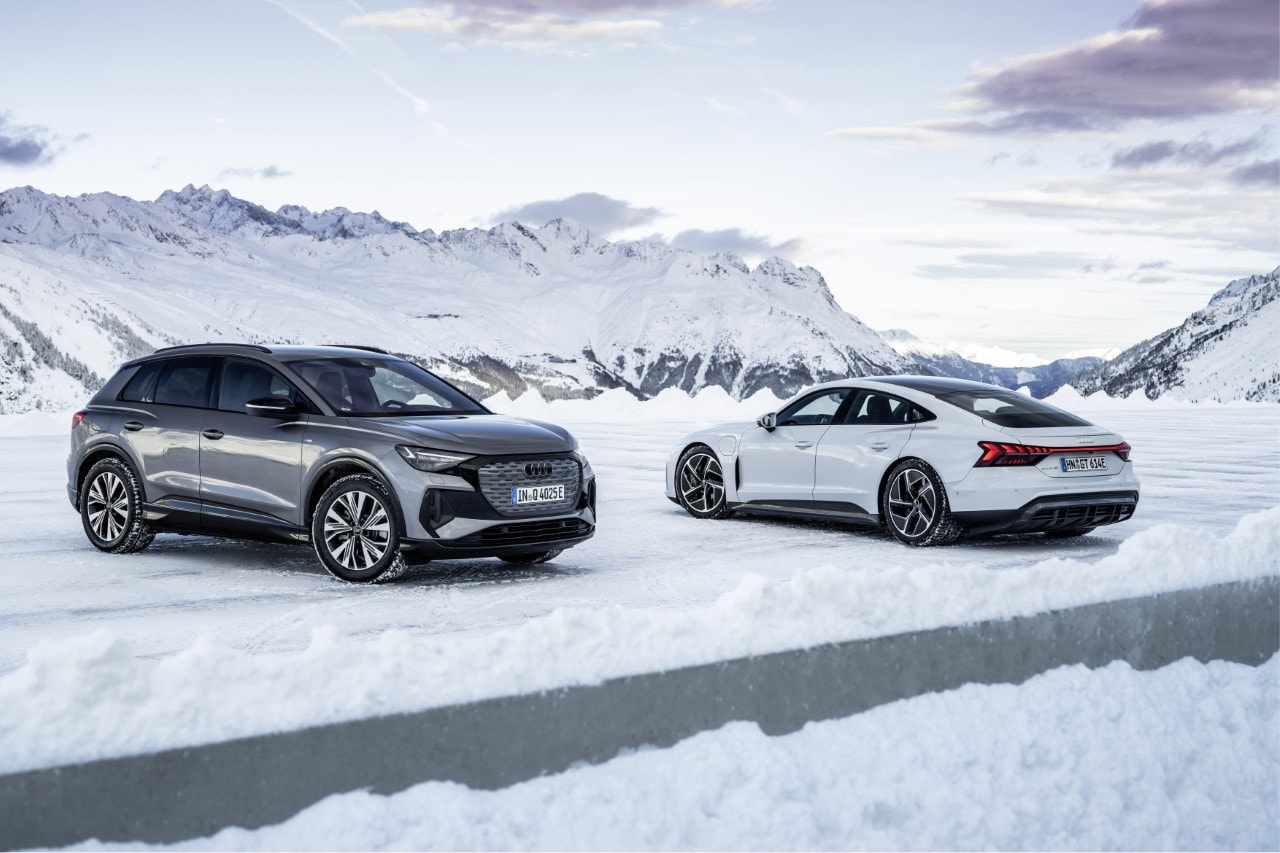 Audi re-imagines the way we drive, taking electric vehicles and injecting the Audi DNA.
Performance, driving technology, range confidence and connectivity make the e-tron and TFSI e-range lineup stand out in the world of electromobility. Audi now has five e-tron families, each with its own unique design, providing a wide range of options to excite every driver. Plus, each model can be personalized specifically for you, by choosing to factory order your new Audi. Now let's review Audi's electric fleet.
1. Audi e-tron & Audi e-tron Sportback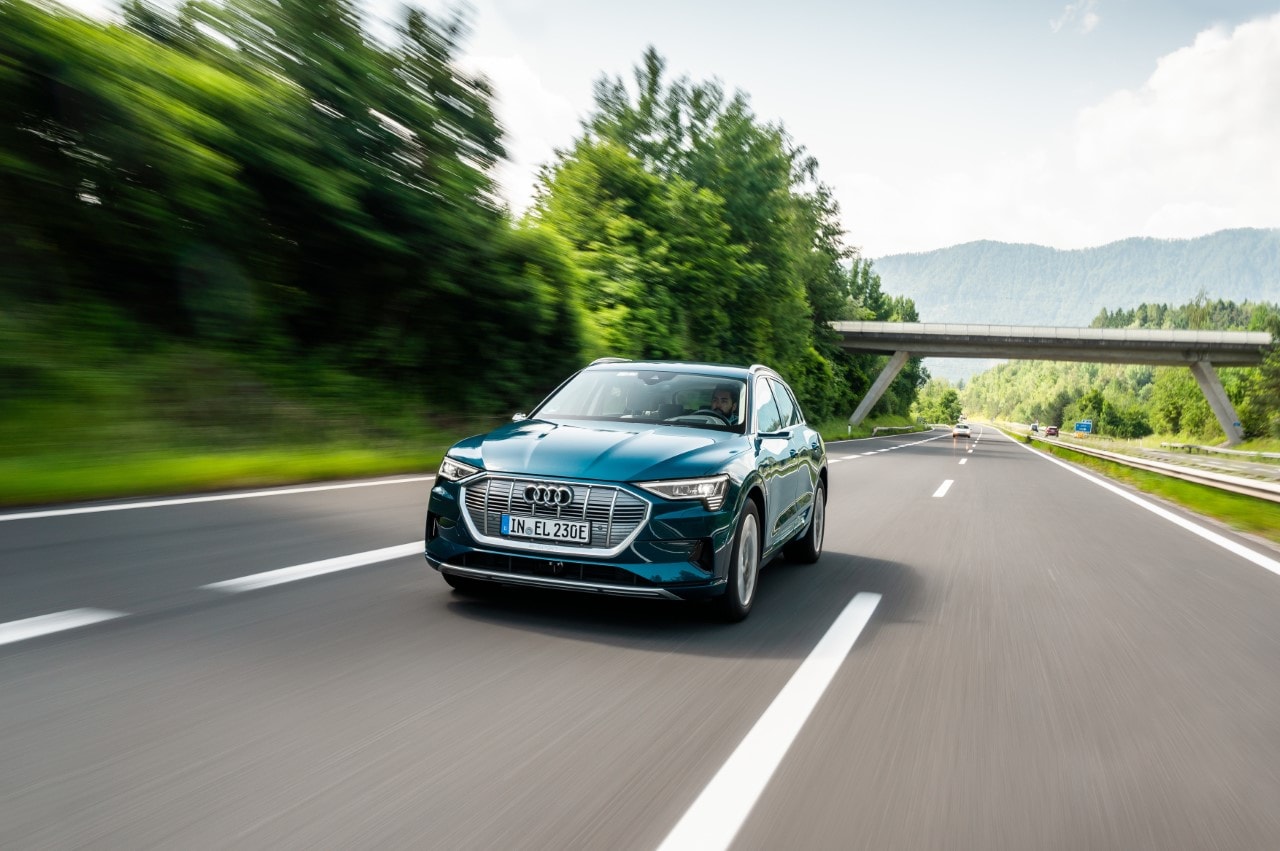 Audi's first fully-electric SUV continues to get better and better. The 2022 model boasts a head-turning aerodynamic body designed for optimal efficiency. With twin-electric motors, this model's true spirit lies in its performance - offering 402 HP, it delivers an exhilarating experience for those in the driver's seat.
Battery Size 95kWh

Capable of fast charging at 150 kW DC

Range up to 357km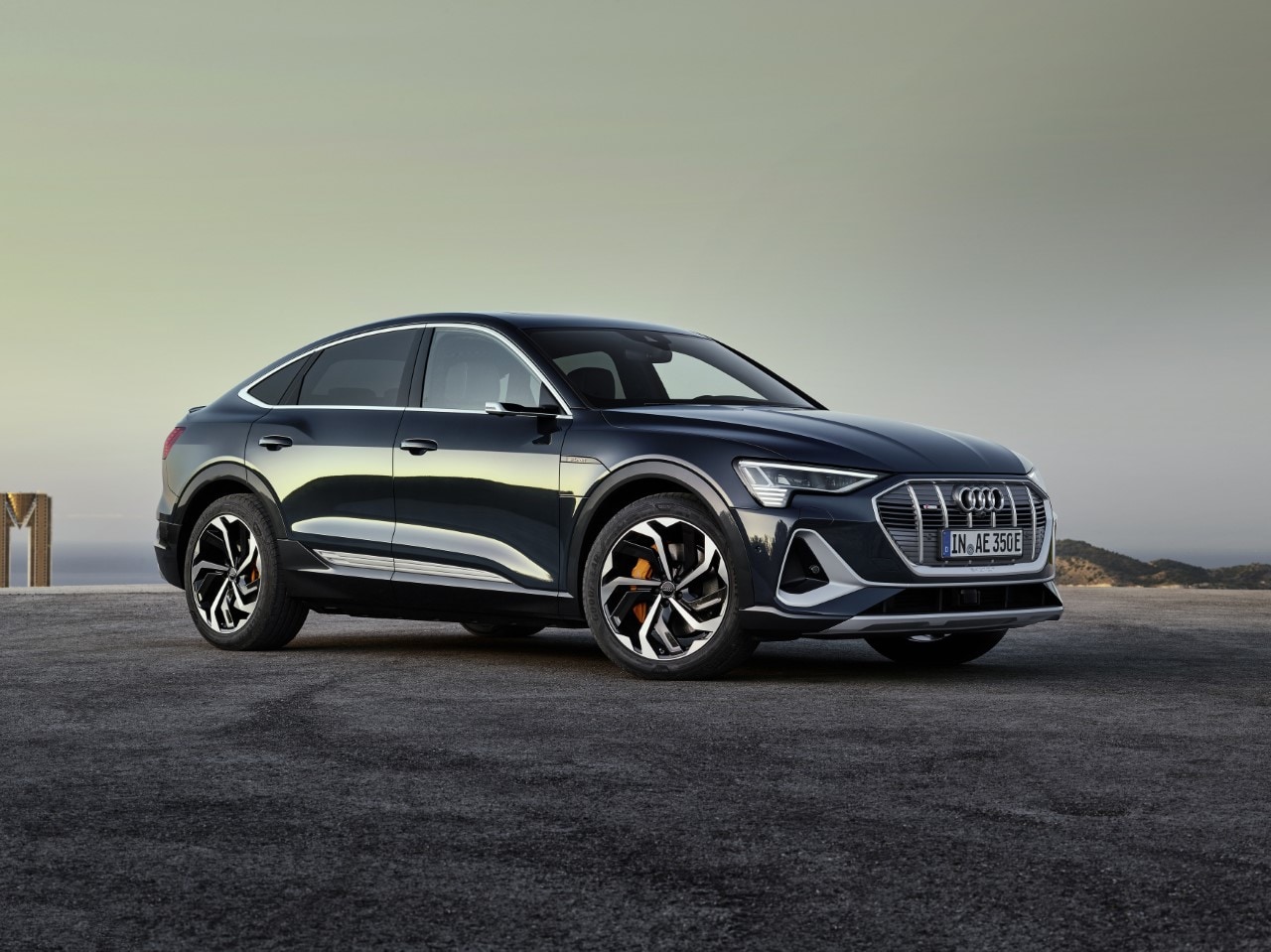 The 2022 Audi e-tron® Sportback features the spaciousness and functionality of an SUV, while sporting the sleek silhouette of an elegantly tapered roofline. This performance coupe is certainly as alluring in both efficiency and driving experience, thanks to its latest technology throughout the cabin. 
Battery size 95 kWh

Range up to 351km

Capable of charging at 150 kW DC
2. Audi Q4 e-tron & Audi Q4 Sportback e-tron
The Audi Q4 e-tron is a car to not only turns heads, but to optimize performance with enhanced aerodynamics and fast-charging capability. It's perfect for those who want to experience luxury in an electric vehicle while on the go.
Battery Size 82kWh

Charge Time 38mins (from 5-80% on a public DC fast charger)

Seats 5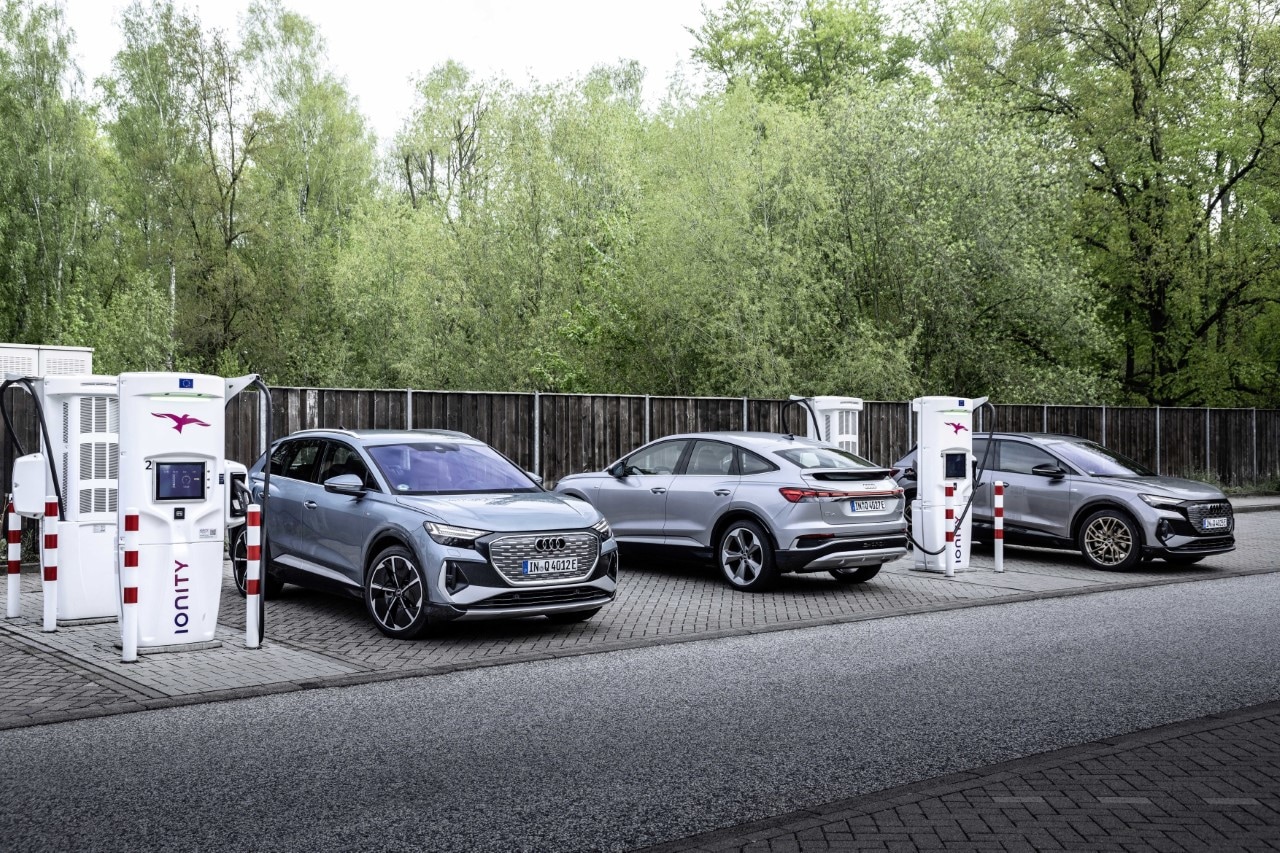 Don't simply watch the Audi Q4 Sportback e-tron make a statement; be part of it. This all-electric SUV beautifully combines functionality and style - it features fast-charging capability for minimal downtime and a design made for an electric world.
Battery Size 82kWh

Charge Time 38mins (from 5-80% on a public DC fast charger)

Seats 5
3. Audi e-tron S family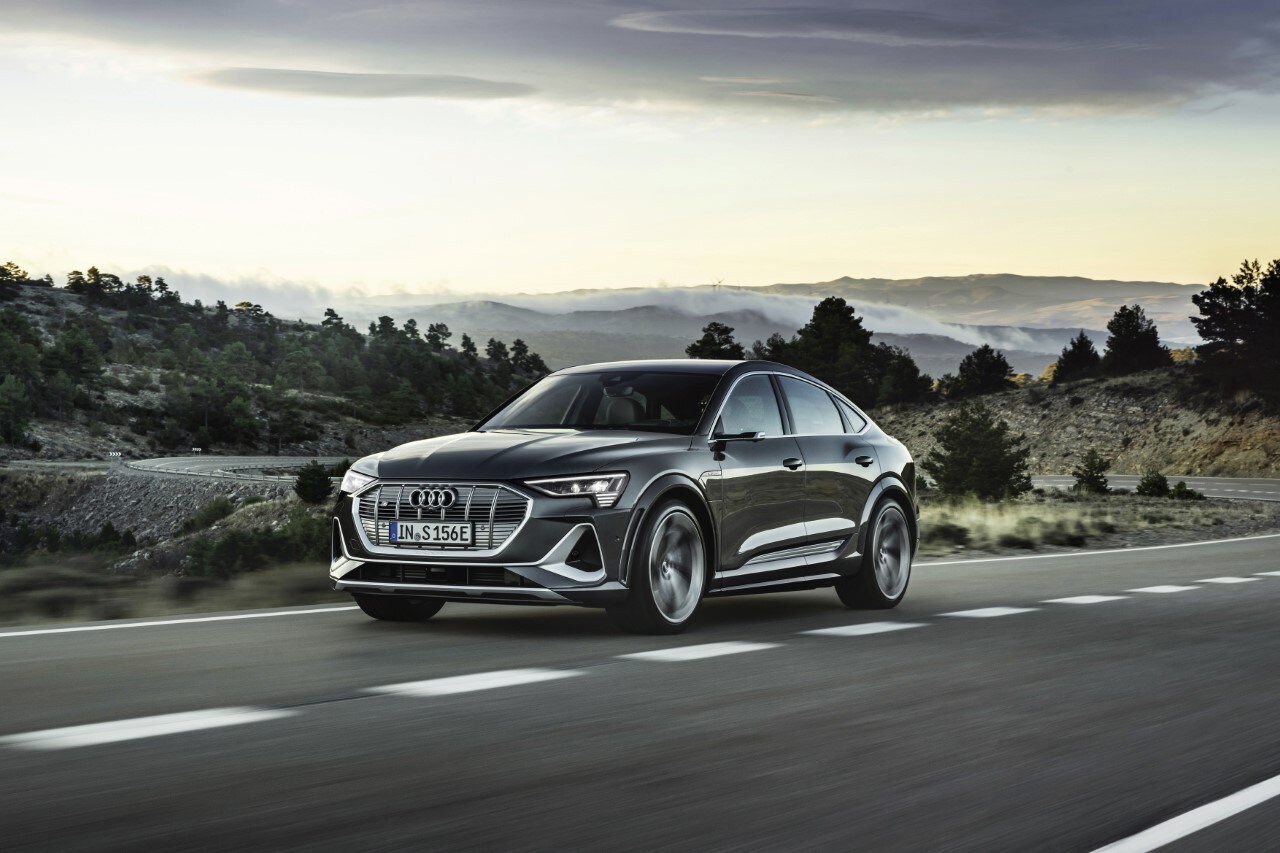 These one-of-a-kind Audis are set apart by not one, not two, but three electric motors - one for the front wheels and two that power the rear. Pair this with quattro all-wheel-drive and these Audis bring exceptional versatility and intuitive handling. Their sporty design includes a sloping roofline, flared fenders and wide stance - creating an electrifying stir wherever they go.
Torque 717 lb-ft

496 HP

0-100km/h in 4.5 sec (with boost engaged)
4. e-tron GT family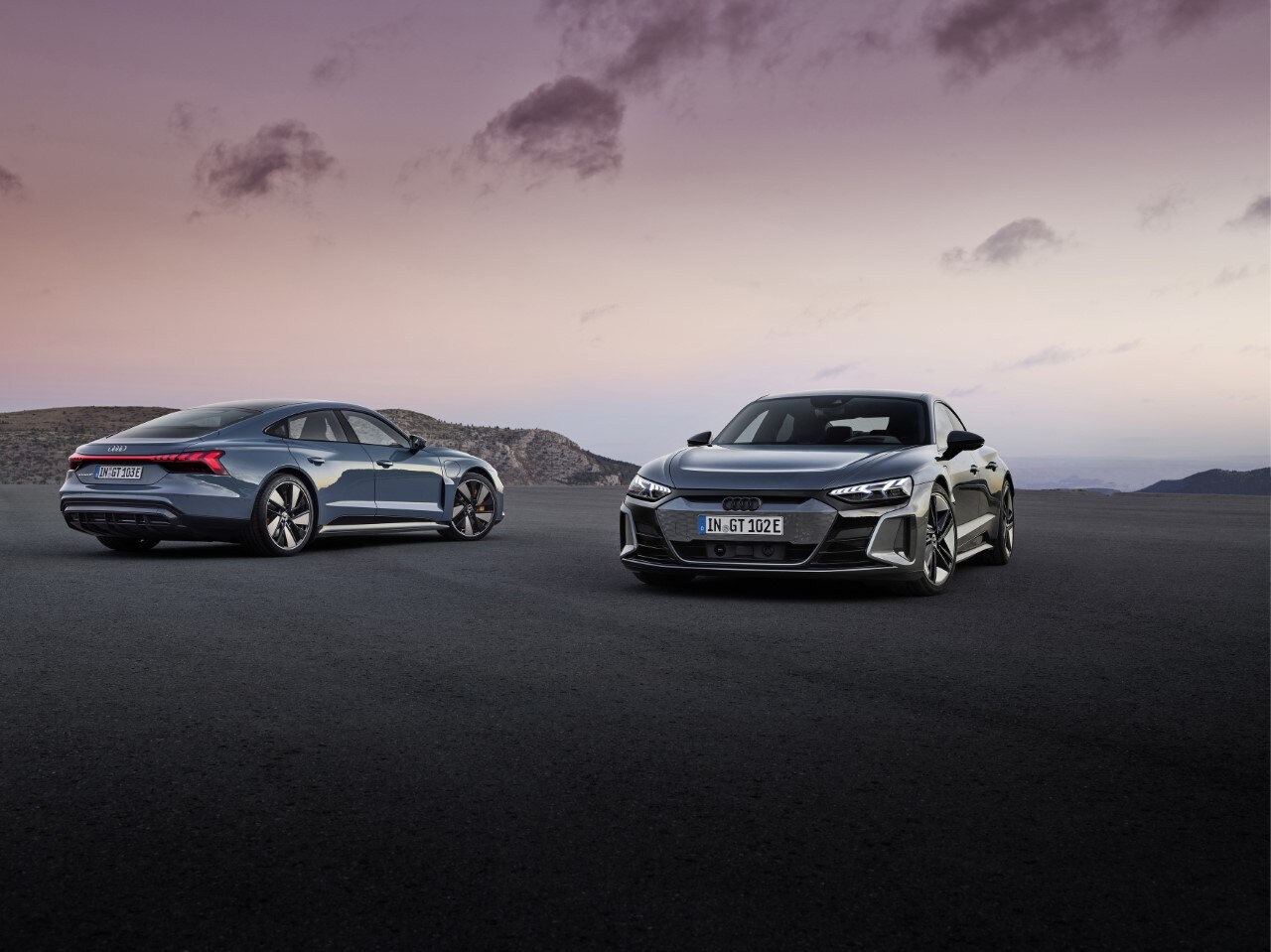 Audi's fully-electric homage to grand touring models includes the Audi e-tron GT and its RS counterpart. The heritage is clearly realized throughout its design and performance. Sleek, flowing lines optimize aerodynamics in the Audi e-tron GT, while the RS trim provides a boost of power up to 637 HP. Interior features like the leatherette-wrapped seats create a sporty-yet-chic environment to complement the electrifying performance.
Charge time 22.5 min (5%-80% on DC max power)

Up to 637 HP

0-100km/h in 3.3 sec (RS e-tron GT)
5. Audi Q5 TFSI e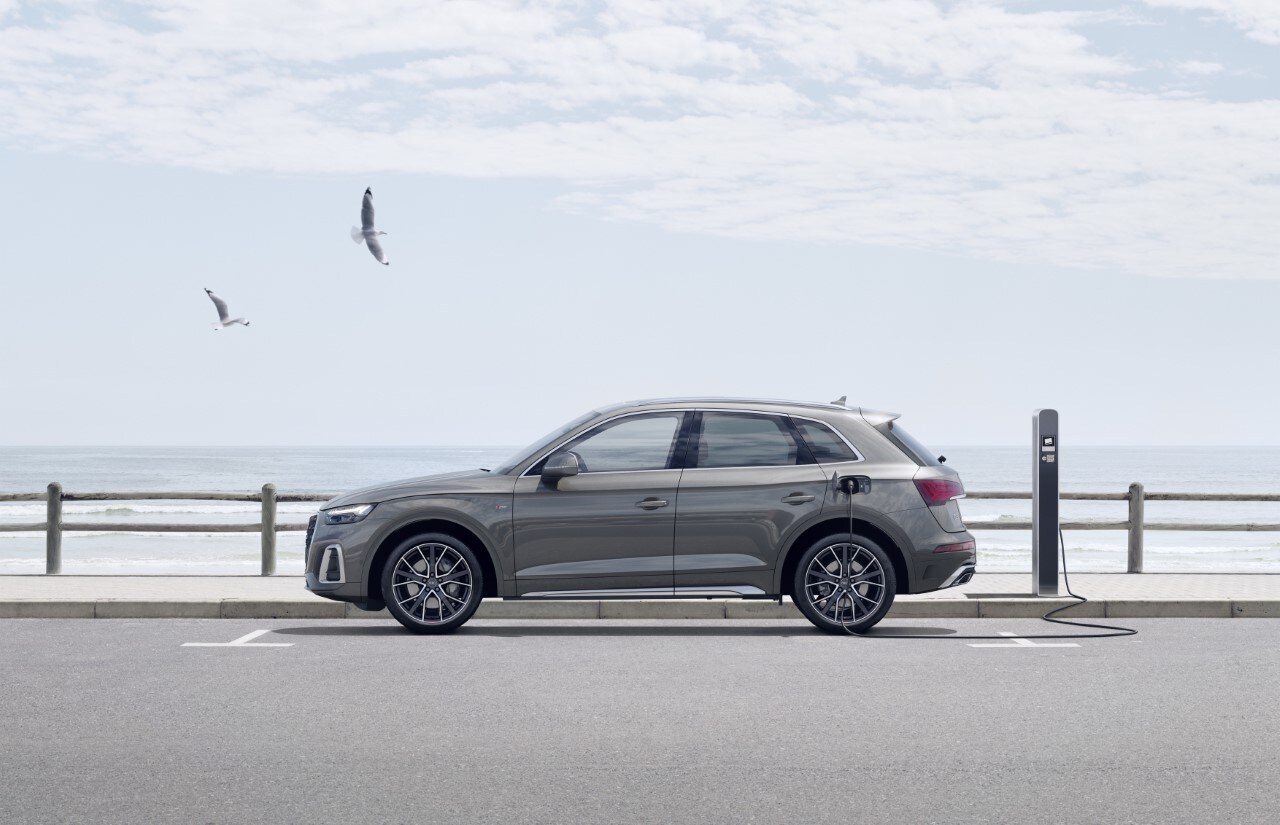 Merging an electric motor with a traditional engine can be a powerful first step towards driving electric. Audi's plug-in hybrid models, like the Audi Q5 TFSI comes equipped with legendary quattro technology, offering an incomparable driving experience. Performance, harmonized with flowing design, marks this model as an exceptional choice to bridge the gap from fuel to electric mobility.
7 speed S Tronic Transmission

362 Horsepower

0-100km/h in 5.3 seconds